Created to tie
the room together
The T&B (Table and Bench) are convivial with an assertive character. "You would want people to be able to dance on top of this thing," Hong Kong-based designer Ben McCarthy says, "a table needs to be stable enough to give you confidence in what you are doing." McCarthy's love for tables started in a wood workshop in North East Hong Kong. His earliest builds were custom tops and frames to fit the needs of friends moving flats around the city. "A few years ago, I had members of collect.studio over for dinner in Hong Kong. I had just built a huge table in the workshop and it came to play a special role that evening. We had dinner first, then we drank champagne and played ping-pong on it," he says. The challenge with a table is that it needs to tie the room together, therefore on the drawing board for T&B were sketches of a trestle table that could work in several sizes. "When I spoke to collect.studio about this we agreed that we should make a table that we could sell almost by the foot," McCarthy explains. The second challenge was the flat pack and assembly. Despite being a sturdy wooden table, the T&B collection rests on bolts that are custom engineered and manufactured specifically for the purpose connecting three pieces of wood together, creating the structure in the T&B collection. "One of the things that I am most proud of on this table is the way that it happens, coming apart and assembling back together with ease," McCarthy smiles.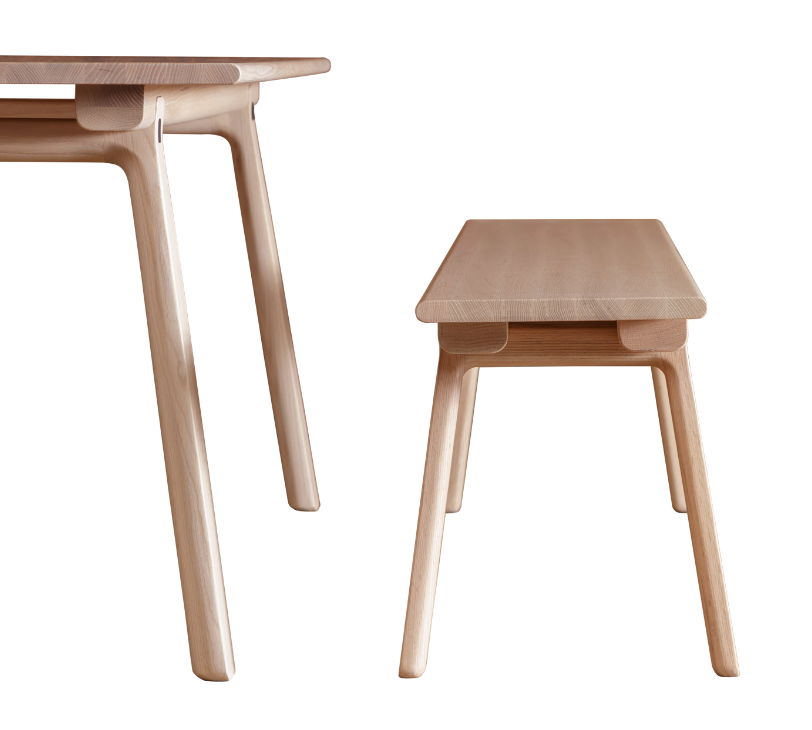 Sophisticated and bold
The T&B collection tie any room together. Humble yet utilitarian, the round friendly edges are resting on a trestle-like structure creating a sturdy collection that is both beautiful and functional. Hong Kong-based designer Ben McCarthy wanted to create a design that was flexible enough to hold any measurements. It is the clever assembly of the T&B collection that brings materials together, but it is the passion and love for gathering people that has given the collection its character. The T&B collection is available in natural oak with black-blue, red or grey bolts but the options and configurations are nearly endless. If you prefer the table and/or bench by the foot, prefer a different wood, finish or bolt color, please contact us at bespoke-area.
Ben
Mccarthy
Australian born Hong-Kong-based designer, Ben McCarthy, earned his degree in industial design from The University of New Soutch Wales in Sydney. After a couple of years in London and Tom Dixon's studio, he moved to Hong Kond to work with Brith born designer Micheal Young...
Read more